I know that normally you're supposed to declutter BEFORE you move so you don't move junk, but with everything being so crazy before our move, I just didn't have time to do it. But I suppose it's all for the better, since so many items were broken in our move anyway (I finally got the claim form today and filled it out - there were more than 50 items that were damaged!!!). So, my declutter target during the month of August is MY ENTIRE HOUSE!
Too bad I don't have pictures showing my before and after. I should have taken a picture of the day the movers left when we had boxes everywhere to compare to my finished rooms, but oh well. I was originally going to make one post on Friday with a highlight of everything, but as I kept adding to it...it just kept getting longer and longer and by Friday I would have had a novel instead. So, I'm going to be posting updates on my decluttering on a daily basis instead.
Check backwards for my progress from previous days...yay for scheduling posts to appear in the past...!
Friday August 1st: Clothing
Saturday August 2nd: Books

Sunday August 3rd: Magazines

Monday August 4th: Kitchen Utensils

Tuesday August 5th: Entryway
Wednesday August 6th: The Baby Station
Thursday August 7th
: Files and Desk, part 1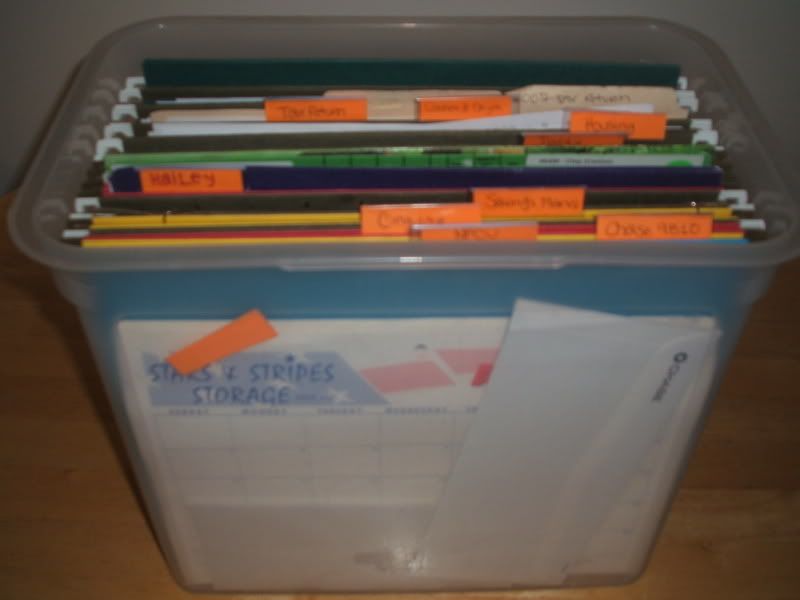 Our desk was broken in the move, mainly due to the fact that the lazy packers didn't unpack it first and tried to move it as-is. So, today I got the fun job of salvaging our items from the desk, and finding another system for them. Before, our bills and records were separated into folders, and the folders were just dumped in a drawer. Now, using a filing box I got from freecycle, instead of folders I am using hanging files and it's working a lot better. Before, I had to go through each folder to find the one I'm looking for, and every-time I opened a folder to put something else in, past bills would come streaming out. With the hanging files, I can see exactly where everything is, and all I have to do is drop the new bill in without having to deal with the old ones. This new system also frees up my drawers for something else, but that will have to be another declutter for another day, since our desk is still broken and we're waiting to see if they will fix it or just give us money to buy a new one.
Come back tomorrow for yet more decluttering. I think I'm going to tackle our linens, or maybe my vanity table, or maybe the puppy room...