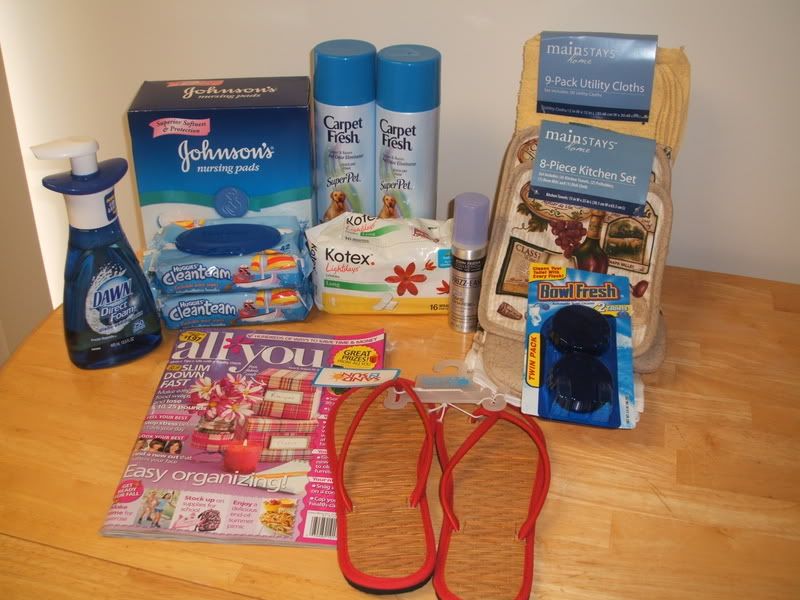 I love Walmart, especially when I can save $15 in less than an hour's time. Here's the breakdown:
2 Cleanteam wipes @ $1.64 each: $3.28
2 Carpet Fresh @ $2.18 each: $4.36
Kotex: $1.00
Dawn Foamer: $2.44
Johnson's nursing pads: $6.92
John Freida travel mousse: $0.97
Toilet bowl cleaner (my poor disgusting toilets were very happy): $0.97
Kitchen Set (4 kitchen towels, 2 pot-holders, 1 oven mitt, 1 dish towel - good deal!) : $5.00
Cleaning Cloths: $2.78
The all important
All You
magazine (after all, this is where I got most of my coupons in the first place): $1.77
Product total: $30.49Coupons used
$3/2 Cleanteam wipes printable
B1G1 Carpet Fresh (
All You
)
$1/1 Kotex printable
$1.50/1 Dawn Foamer (mailer)
$1/1 John Freida product (
All You
)
Total coupon savings: $9.68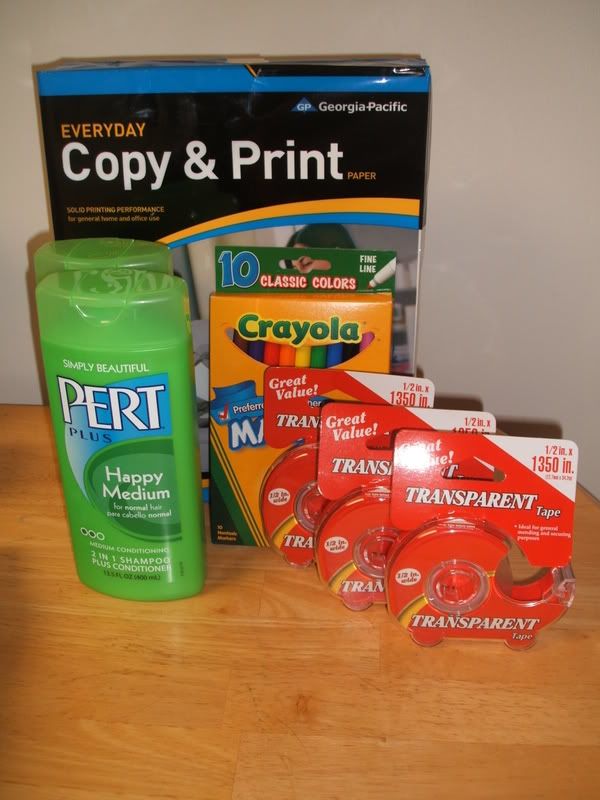 I also took advantage of the Pert/Sure Back to School Offer. Basically you buy $5 in Pert/Sure products and $5 in school supplies, and they will send you a rebate for $5. Well, I used my 2 $2/1 Pert coupons, so I will be getting $10 worth of stuff for $2.85 when my rebate comes. The items needed for this offer I put on a separate receipt, just in case I need the receipt for my other purchases I'm not left without.
2 Pert Plus 2in1 @ $2.88 each: $5.76
3 Tape @ $0.46 each: $1.38
Crayola markers: $0.88
500 ct. Copy Paper: $3.00
Product total: 11.02
Coupons used
2 $2/1 Pert Plus: $4.00
Total Coupon savings: $4.00
Total Rebate savings: $5.00
I know I could have increased my savings by using the $3 HP printer paper printable coupon, but for some reason it never scans right, and since Walmart was at the end of my errand run yesterday, the baby was starting to fuss and I really didn't want to have to sit there and wait.
One lesson that motherhood has taught me: your sanity and your baby's happiness is priceless and definately not worth a couple of bucks.