Since I just shared some pet care deals, it just seems right that for today's Thrifty Thursday I should stick with the pet theme! A while back, I introduced my crazy mutts,
Chloe and Chip
, or collectively known as Chiploe. Before our little princess came along, they were our babies. They still are. And I love to spoil them with toys, food, treats, and trips out. In our old house, this is what their room looked like:
We don't have room in this house, so the play center is currently in storage. But don't forget about their pit of toys: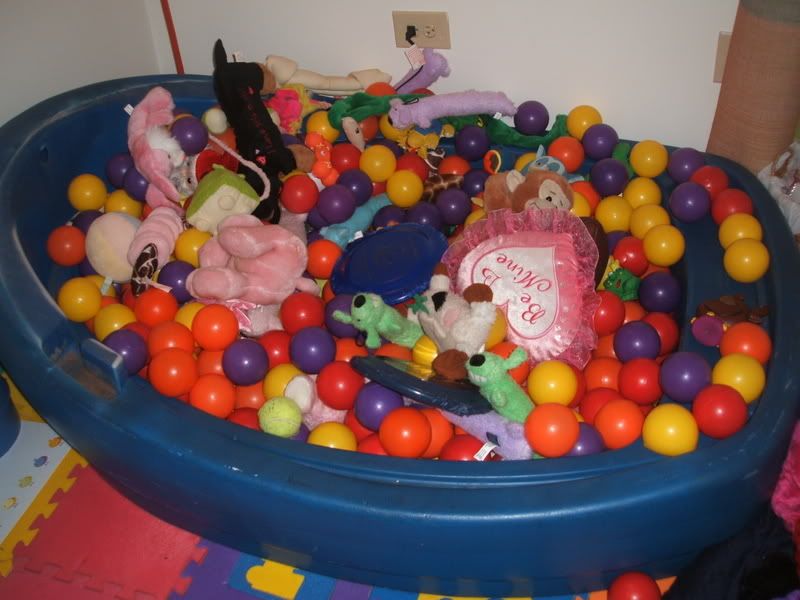 I know that this doesn't exactly seem to be the ways of frugal lifestyle at first, but let me share with you how my dogs live in luxury for under $100:
Play center with slide: $20 from craigslist
Ball pit with all balls: $20 from craigslist
Foam floor mats covering entire room: $5 from craigslist
Disc chair: FREE (saved from the dump after husband spilling coffee and syrup on it)
For a mere $45, my dogs have more fun in their own house than at doggy daycare. If we have to leave them all day, I also have the peace of mind knowing that they're not bored and I don't feel guilty about leaving them. And once the baby gets old enough, we can "recycle" all of that for outside toys for her.
You just have to be creative when it comes to things for your pets. We don't buy dog beds anymore - we buy $3 pillows from Walmart. We also give them old blankets and bedding, and they make their own beds out of it. We don't even buy dog toys anymore - we buy stuffed animals from the Salvation Army or Goodwill. Stuffed toys made for babies are also great - Chloe has a ball that rolls around and makes noise. It was a baby toy that I found at Goodwill for 50 cents, but it was stained and dirty and definately not something I want my baby to be touching and then sucking on her hands...but it's perfect for the dogs.
As for my tennis ball-obsessed Chip, I would go broke if I tried to buy him tennis balls. He's only 12lbs, but he plays with them so much that we go through a lot. It probably doesn't help that he likes to hide his tennis balls all over the house. He has major issues. But instead of going broke buying tennis balls, I just called up our local tennis club and ask them for balls. Tennis players apparently think that tennis balls are useless after one or two uses. I have no idea why, but their loss is our gain.
With the exception of Chip's haircut, we never take the dogs to be groomed. In the old house, we had a walk-in shower, and I used that to bathe the both of them. It was perfect because I didn't have to break my back bending over the bath tub, I didn't have to wash them in dirty water, and I didn't have to worry about them getting water everywhere. Once they were in there, I closed the door, washed them, and then dried them off completely before I opened the shower door.
We used to do their nails ourselves, but we just found a place down the street that does nail-trims for $3. It takes us an hour to do Chloe's nails because she's just so terrified and ends up running all around the house trembling, so we've decided that our time and her sanity is worth a lot more than $3.
Now, as always, please don't turn off your common sense when being frugal. Don't give your dog a bean-bag toy, because when it breaks, they will swallow those and you'll have a sick dog and a hefty vet bill on your hands. Follow the baby toy paper roll rule - if the stuffed animal or toy has anything small enough to fit throw a toilet paper roll, don't give it to your dog because it's too small and they'll eat it. And always supervise their play...toys break, and eventually you'll come home to a floor full of fuzz. Check their toys periodically, and toss any that are starting to come apart. I'm lucky because my dogs like to roll around in the fuzz, and not eat it, but there could be serious issues if a dog ate all of that fuzz.
Dogs can be expensive, but if you're smart and creative, you can give them a LOT of stuff that would rival a doggy daycare center.