UPDATE: I have created a list of FAQs to answer some of your questions.  Read it here.  If you have any other questions, feel free to
email me
.

UPDATE: Please request mailing addresses/further information by filling out the form below. For privacy and security reasons, I am unable to distribute address via a post, but I will get back to you in under 24 hours via email with the information. Thanks!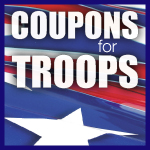 Military families stationed overseas can use expired coupons at the commissary, but some bases don't have commissaries and all they're left with is the Exchange. And let me tell ya...those Exchange prices are
steep
. They had a Labor Day mega sale where everything was 60% off, and I
still
had a hard time finding things that were worth the money. Can you imagine if that was the only store you had? I know I would go nuts. And broke. And then go even more nuts about being broke.
Here is where you can step in and help out our military families! Send both your expired AND unexpired coupons! Obviously you wouldn't do it in the same envelope because that'll just be a big old confusing mess, but you can send it directly to a deserving family overseas and help them out with basic living necessities.
Postage to all APO and FPO address is the same as state-side, so it costs no more than a stamp for you to send some coupons overseas. If you have the right amount of stamps on hand, you don't even need to make a trip to the post office.
Here is a picture of the coupons that I'm sending overseas today. The pile on the top are my unexpired coupons - total value $60.22. That letter weighs 1.4oz, so it will cost me all of $0.59 to mail it off. Since I have some $0.17 stamps on hand, I don't even have to go to the post office.
The bottom pile are my expired coupons - total value $39.75. That letter only weighs 0.8 oz, so all I need is a regular old $0.42 stamp.
I do two mailings a month - one towards the end of the month, and another in the middle of the month. I've found that this process helps me keep my coupon box neat and tidy, and also cuts down on the chaos at the end of the month. I had over $500 of coupons at the end of September, so by doing mailings twice a month it really helps me cut down on the clutter and mess.
For a total of a single dollar, I am sending nearly $100 in coupons to families stationed overseas. I'm sure we can all spare a single dollar to help out our military. We all have expired coupons, and we all have unexpired coupons that we just don't use.
And just in case you're
still
not convinced that you can help our military families out, I'm going to give you some added motivation. I'm having a giveaway for $200 in coupons, and the usual design goodies (address labels, blog button/graphic, or picture enhancements). Oh, and I'll throw in an "Arm & Hammer Carpet & Fabric Refresher" Try-Me-Free rebate too. You get an entry by simply requesting information! And if you can
email me proof
that you've mailed some coupons off, I'll give you an extra entry AND some personalized goodies.
The giveaway will end
Friday 10/17/08
, so gather up those coupons and send away!