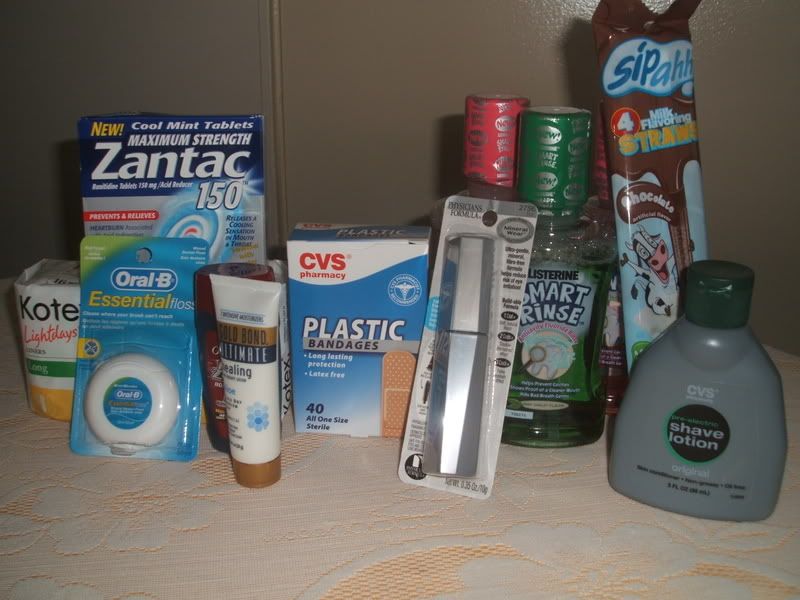 I went out bright and early today to make some returns at Walmart and Target, and also to pick up some baby girl dresses for $5. CVS was on the way, so I decided to stop there as well.
Stop #1: Target

T-shirt from clearance section: $3.98
Baby photo album: $14.79
Okay, so the photo album wasn't exactly a frugal buy, but it was one of those predesigned photo scrapbooks that I've been looking for everywhere. Besides, it came out of the baby's Target giftcard. I didn't use any coupons at Target, because all my Targets are very picky and I was just not in the mood for their stupidity today.
Disappointments:
The return clerk took forever and a day...! And they didn't have any of the eco-friendly binders. I could care less about the eco-friendly part, but these binders are wider than regular binders and would work perfectly for my photo inserts.
Stop #2: Wal-mart

Oral-B essentials floss: $0.97 ($1/1 P&G 6/1)
Old Spice body wash trial: $0.97 ($1/1 P&G 6/1)
Gold Bond lotion trial: $0.97 (
$1/1
)
Kotex 16-ct pads: $1.00 (
$1/1
)
Zantac cool mint: $3.98 (
should
have
used
$5/1
)
Disappointments:
I forgot that I didn't have anymore Zantac coupons and got it anyway!!! I get all of "freebies" everytime I go to Wal-mart. We can't use them all but I like to send them to troops overseas. So out of habit I grabbed it...oops.
Coupons
that
didn't
work
: cleanteam
$3/1
& HP 500ct. paper
$3/1
I purposefully didn't grab the buddies soap because it was on the other side of the store and I was exhausted. The cashier automatically scanned all my coupons without calling for a manager, which was refreshingly nice.
Stop #3: CVS
I've never been to this CVS, and if it was closer I would go -all- the time. It is SO nice, and they even had carts so I didn't have to lug the carseat everywhere!
Transaction #1
3 Listerine smart-rinse: $3.49 x 3 = $10.47
1 CVS 40ct. bandages: $1.99
1 Physicians Formula Mineral Wear Mascara: $7.99
Used
$4/$20
CVS coupon, 1
$1/1
Listerine coupon, $6.99 ECB, $6.00 ECB
OOP: $2.72
Got back $7.99, $1.99, and $10.47 in ECBs
Transaction #2

1 CVS men's after-shave ($2.59)
1 4ct. chocolate flavor straw ($0.49)
Used
$2/1 CVS skincare coupon
OOP: $1.16
Got back $1.00 in ECB
Total product total: $23.53
Total OOP: $3.88
ECBs earned: $21.45
They didn't have anymore Oral-B toothbrushes, so I had to compromise and get more Listerine. I wasn't planning on maxing out that deal because I ran out of $1/1 coupons, but I needed to get my first transaction product total to $20 so I could use my $4/$20. And I screwed up and got the chocolate straw because I thought I had the $1 ECB already...by the time I realized, I wasn't going to make the nice cashier cancel the transaction so I could go back and find something worth $1.50. Not bad though for things not going completely as planned.
And on the way home I stopped by to buy this huge bag of baby girl clothes for $5. I really only wanted the pretty fluffy dresses (there were two of them), but I guess I can use some of the other stuff. Can't beat the $5 price though.
Total time spent out: 3 hours
Mileage: 31 miles (so around $4 spent in gas)
Total amount spent: $30