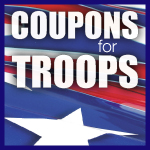 Thank you to everyone who participated in my
giveaway
in support of the Coupons for Troops program.  I hope that all of you will save up those expired coupons and send out a batch!  Remember that for a limited time I am offering a small appreciation gift for anyone who can send me proof that you've mailed some coupons off. 
The winner of the giveaway is Christy!  Congratulations Christy...!  Please get in touch with me by Saturday so I can get your prize out to you.  Thanks to all those who participated! 
If you didn't win, you can join my
200th post celebration
here for another chance at $200 in coupons!